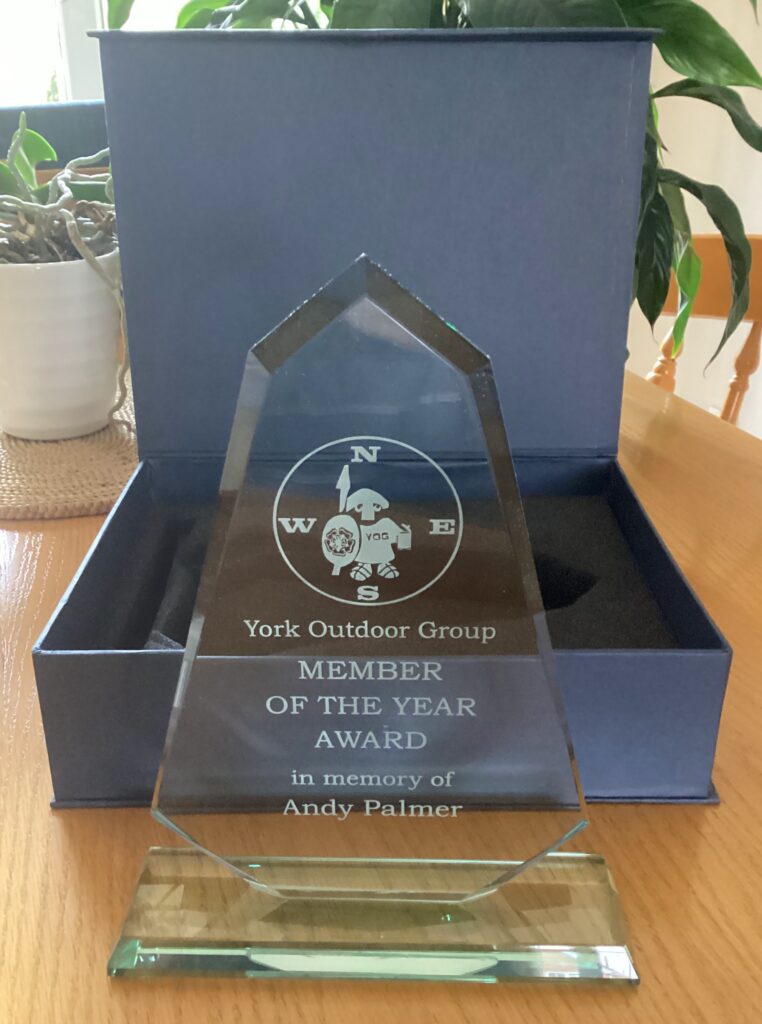 Each year, members vote for a member who has made an outstanding contribution to the group. The winner is presented with the York Outdoor Group Member of the Year Award in memory of our much-loved former member, Andy Palmer.
Andy Palmer

Andy Palmer joined YOG in 1991, during the group's second year. Thanks to the small number of members at that time we all got to know each other well, with events such as slide shows and even AGMs being held in members' houses.
As both a keen cyclist and a walker Andy fitted in well with the group and he became the second Chair in 1992, holding that post for two years. He attended many Sunday walks and weekends away. There were periods over the years when he was not involved in the group and he always made interesting observations about how it had changed each time he returned.
He was a kind and quiet man, always willing to make conversation with old friends or new faces. One personal memory is of him asking me what was my favourite equation. He expressed surprise at my answer then said he couldn't think of many people who would have an answer. I can't think of many people who would have asked the question.
19 June 2012 was the day when the Olympic torch passed through York. A few of us met up to see that before going for a local evening walk. Towards the end of the walk we were passing near his house and he invited us in for tea and biscuits. That was the last time we saw him.
Many of us who knew Andy were aware that he experienced depression but we hoped that the activities and companionship of YOG would help him to live with that. Sadly it was not enough and he committed suicide on 21 June 2012.
Several YOG members attended his memorial service and his collection of maps and outdoor guides is now held by the group. The Andy Palmer Award was set up in his memory in 2015.
Award Winners
2023: Tracey Oxley, Chair
2022: Stuart Dalby, Programme Co-ordinator
2020: Dave Firth
2019: Sarah Craigie

2018: Justin Richardson, then Membership Secretary

2017: Joint Winners – Sue Cook and Mark Cook, Former Group Secretary

2016: Laura Trinogga, Former Programme Co-ordinator

2015: Jeremy Bradsell, Group Founder